The Angels must sell on Hunter Renfroe while he has value
---
The last two weeks in Angels land has seen the team run through an absurdly horrendous stretch in which they have dropped 12 of their last 16 in a schedule littered with struggling teams. I don't need to recount the specifics of this awful stretch as we've been properly immersed in the existentiality of it all, but given the circumstances there are pressing questions that need answers soon. A crossroads awaits where the Angels have to decide whether they will go all in on the hunt for playoffs or sell and reload for the future. Either option presents multiple difficulties; if the Angels go all in they will be dismantling an already dilapidated farm system to secure short term options whereas a full sell may be the final straw the pushes Shohei Ohtani out of Anaheim. Is it possible for the Angels to balance a sell while still maintaining a semblance of hope for playoffs?
The problem with either option is that the Angels have spent many years playing "half-in half-out" at the deadline and that lackluster approach has bogged the the organization within this mire that has kept them out of playoffs over the last ten years. There is a caveat to all of this however; Angels GM Perry Minasian has shown an ability to pick up top tier pieces on the cheap come. Last years deadline flips of Noah Syndergaard and Brandon Marsh brought in tenfold it's value (on the Syndergaard side) with Mickey Moniaks season saving bat and Logan O'Hoppe's future All-Star status returning to Anaheim. There may be a chance for similarly swift returns on some sells this year but it will require offloading current Major League starters to bring back some value. Hunter Renfroe is the most immediate piece that can still bring a quality return without damaging the clubs ability to compete going forward. Renfroe is going to be a free agent at years end and there is zero indication that he will see himself back in Anaheim, additionally the Angels are flush with enough outfield depth to relegate Renfroe to first base without skipping a beat defensively. Of course it is a matter of necessity that has Renfroe playing first, but with certain options such as Daniel Murphy and Trey Cabbage waiting in the wings there is more than enough cushion to soften the blow of losing his power bat in the lineup.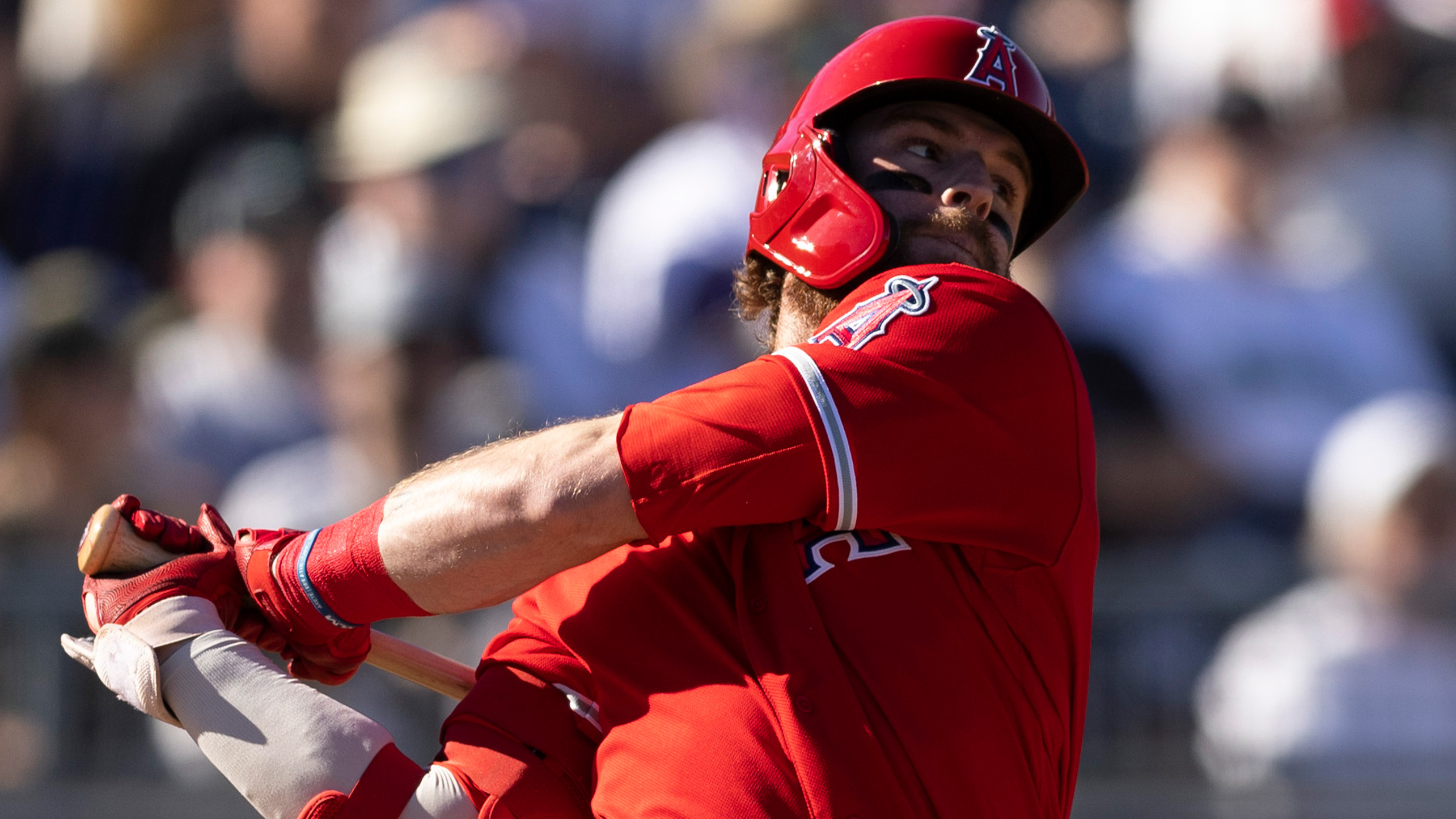 The real crux of this trade is Renfroe's complete lack of timely offensive production on behalf of the Angels. Despite having a flashy 15 HRs on the year Hunter Renfroe has managed a reputation as one of the least valuable Angel hitters with RISP on the season. It may be more accurate to say he's one of the least valuable hitters in this lineup period. With bases empty Renfroe has managed a mediocre .223/.286/.412 slash line and from there his numbers fall into the abyss once runners make their way on base. Renfroe complete disassociates in opportunities with RISP as noted by his .500 OPS across 95 total plate appearances in such situations. In fact he has just ONE HR with runners in scoring position off a .163 batting average. The majority of his homers have come with bases empty (9 HRs) with the remaining 5 being hit with a lone runner on first. To make matters worse, in close late game situations Renfroe manages an absolutely bottom of the barrel .286 SLG. This is the point where it all begins to feel like a fleece on the behalf of the Brewers. Outside of his rookie year he's posting his 2nd lowest walk rate (6.0%) alongside the lowest HR rate of his career with just 4.4% of plate appearances ending in a home run despite a 5.7% career average. On top of that he's producing his 2nd highest groundball percentage (39.6%) outside of his rookie year. To say that his bat actively drags down this offense would not be an understatement. 
The Angels are not in a position where they need to ride out his bat in hopes of salvaging some value because there is no next man up i.e Justin Upton. There is plenty of talent with the potential to spark life into this offense behind Renfroe. As mentioned earlier Trey Cabbage is an immediate option as both a 1B/RF bat, though the rumors that surround Cabbage may present concerns that he can't field 1B at a Major League level. However, even at worst case scenario he can still sit as a fourth outfielder and spell days off for Jo Adell and Mickey Moniak. It's a bit of a risky issue replacing a known quantity with an unknown element but at this point the Angels have a lot more to lose by standing pat with what they have. Cabbages left handed bat brings a nice value to this roster, especially considering his ability to hit lefties as per his .831 OPS against the split in Triple A. At the very least you could split his time between first and RF much like Jared Walsh did in his first seasons with the Angels.
Defensively speaking Cabbage is not the most sound replacement for Renfroe considering unknowns, though offensively speaking a struggling Cabbage would be no worse than what Renfroe is currently supplying at the dish. Trey Cabbage has swung a monster bat through his Triple A time this year as noted by his .940 OPS and PCL leading 23 home runs. Unlike Renfroe, Cabbage has shown an ability to hit with RISP, especially in 2 out situations as noted by his .270/.324/.524 slash alongside 4 HRs and 22 RBIs in such situations. If you fear losing defense at 1B you always have Daniel Murphy as a potential suitor for 1B. Though his sample size at Triple A is small he is doing incredible things at the age of 38 by maintaining an .842 OPS through a couple weeks worth of games while handling 1B with excellence. The problem here is you can't really call up Cabbage AND Murphy without doing some serious roster tinkering. Given Cabbages potential ability to play 1B alongside the outfield it would be more likely to see him receive the call up between the two. Though it should be said that Murphy presents an intriguing nuclear option in the events that Cabbage struggles to find his feet in the big leagues. 
I have zero envy for Angels GM Perry Minasian with the future of the franchise quite literally hanging on his every move. That being said, moves need to be made if the Angels want to continue forward with any chance at rocketing themselves back into playoff contention after the All-Star Break. Zach Neto is soon to return and Brandon Drury is possibly in line to return post-break as well. Package this with a Trey Cabbage call up and you practically have the best "trade deadline return" the Angels could ask for; a massive power hitting outfielder, a defensively gifted shortstop who can rake, and one of the better hitting second basemen in the league. In all honesty things aren't looking too horrendous if you're willing to scrub the memory of the last two weeks from your mind. A suitable roster will return to form in due time, though it rests on the GMs shoulders to speed up that process as much as possible. Perhaps the Yankees would be willing to take a shot on the power hitting outfielder with the position they're in given Aaron Judges untimely injury. It may just be wishful thinking to hope for legitimate pieces in return for a Renfroe trade, but at this point hoping for an Angels playoffs spot is wishful thinking to begin with. The Angels are closer to fielding a dream team than they've been in a long time. If it comes down to a move as inconsequential as shipping a struggling Renfroe off for even the slightest uptick in reviving playoff hopes you have to take that chance.