Who will be the big spenders this winter?
By Jason Sinner, AngelsWin.com Columnist (aka @Dochalo)
Here's who unlikely will spend on players outside of some 1 and maybe 2-yr deals. We won't really go into much detail here for the following teams.
BAL, DET, KC, TB, TOR, ARZ, MIA, COL, PIT, SF.  
Here's who might spend some money but likely on deals in the 1-3yr range.  Not on any big names.  
BOS - likely to shed some payroll.  can't see them being big FA players
OAK - don't have much money but might surprise with a key player or two on shorter deals.  Nothing big.  Could make a couple trades.  
CLE - Payroll is manageable now.  If they trade Lindor, they could make a small deal or two.  
SEA - don't see them going big on any particular player.  a couple of small deals and of course some trades
CHC - payroll already at 183m.  Don't see them doing much other than some complementary pieces.  Cap number is already above 200m.  
HOU - I debated on where to put them but I really think they'll stay fairly conservative this year.  They'll add some pieces but they're already at 220m for 2020.   
NYM - At 180m  in salary and 203m in AAV.  don't see them going big.  
Teams that could spend just because of who they are:
LAD - always a threat to go at a big time player.  They've avoided long term contracts in the recent past and already have a good team with a great farm.  At 175m for 2020.  They're gonna do some stuff.  I definitely see them as a player for the SP market.  Maybe Cole but more likely in that next tier down.  
NYY - same as the Dodgers.  2020 payroll at 204m.  AAV at 215.  again, they could always spend but I think they end up being a little more conservative.  
Teams that could spend and go after a longer term contract on a couple key players but won't go huge:
ARZ - they were a pretty good team in 2019.  payroll at 109m.  Made some substantial trades at the deadline and could move Ray for more cheap talent.  Wouldn't surprise me if they went after a slightly more expensive player or two.  
ATL - I don't think they'll go big but their current payroll sits at about 90m so they definitely could.  Lots of prospect capital here as well.  I think they'll definitely be in on SP in the tier after Cole.  Could surprise and even make a run at Cole but I doubt it.  
CIN - smaller market team who could also be in the secondary market and spend some but likely not huge.  At 122m already for 2020.
MIL - similar to CIN.  They're likely still trying to hold on to their window.  At about 97m right now so they've definitely got some room.  
STL - at 163m in payroll and 176m in AAV.  They won't be afraid to add the right players but I don't see them in the top of the market.  
The big spenders: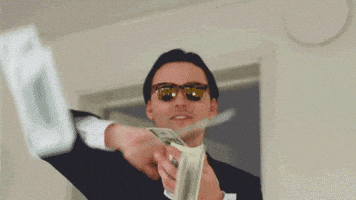 TEX - I could see them shelling out some dough this winter on both SP and Rendon.  Personally I think that would be a mistake as they got some non sustainable performances to make them seem better than they really can be long term.  Pence, Choo, Lynn, Minor, Santana.  There are rumors of them going after Rendon which I could see happening but I think there's a fair amount of fools gold with this team.  
MIN - they are losing 4 of their SP from their rotation and had a 100 win season.  Payroll is at 80m.  Plus they they a very good farm.  I think they'll be very active this winter.  I don't see them going after Cole, but anyone in the tier below is someone they'll target.  Plus, I could see them in on big trade or two.  
CWS - a good lineup and better than most people think with some key additions.  Payroll is at about 60m.  They'll definitely be in on Cole and probably Rendon as well.  They may very well whiff on everyone they go after, but they'll be looking to make some big splashes (plural).  Plus, they still have a good farm system.  
WSH - just won the series.  They have spent in the past and payroll of 120m gives them plenty of room to work.  
PHI - disappointing year and payroll at 171m with AAV at 191m.  They were all in last year and need pitching.  They'll spend but this could be a team that's in a bad way by the end of 2020.  
LAA - money to spend. Need starting pitching. No brainer!